Irish Greyhound Derby betting after Round 2 from Shelbourne Park
The BoyleSports Irish Greyhound Derby continued in fine fashion on Friday and Saturday, so our expert Sarah Kinsella takes a look at the best of the action.
Great Crowd For Second Round At HQ
There was a huge response to my free ticket giveaway for the opening two rounds of the BoyleSports Irish Greyhound Derby which is great to see. I stood on the steps over at the kennel block to watch the opening race on Saturday and was pleasantly surprised to see such a healthy crowd so early on in the competition. The restaurant was fully booked and the atmosphere was brilliant – as well as 16 brilliant heat winners across the two nights. Every week for the derby I'll be running a competition to win some free general admission tickets, so make sure you keep an eye on my Twitter @BoyleSportsSK
Social media Reaction
I'd like to say a huge THANK YOU to everyone who gets behind my social media content. I have already hit over 50,000 views for behind-the-scenes content, so there is clearly a massive appetite for it. All retweets, shares and comments are appreciated, so thank you. We build-up so much hype and excitement ahead of the derby kicking off and just like that we are already into the third round; it's just madness. Post-race content is so important, but all content in general is vital to the industry. The way we advertise and market greyhound racing is changing all the time, so it's brilliant that we can use social media as a platform to showcase all the wonderful aspects of the sport. Greyhound enthusiasts want to hear from trainers, handlers and owners. They want to know everything there is to know about greyhounds, so it's important that we continue to broaden our coverage online and show the world how great our sport is.
RPGTV will be at HQ this Saturday and will cover from the third round to the final. It's a huge boost to have them live stream the derby along with so many other classics and events, so if you can't make the dogs this weekend then tune into Sky channel 437, you won't miss a thing.
I won't mention all 16 heats and bore you all with my love for the remaining 48 greyhounds, so let's take a look at some highlights:
Hoffa Steals The Limelight
96 became 48 in the most dramatic fashion at Shelbourne Park and we now have a new favourite. Coolavanny Hoffa was just sublime, wasn't he? He was foot-perfect from start to finish. This son of Droopys Sydney and Coolavanny Ella clocked 29.13 with sectionals of 3.38 and 16.80. SENSATIONAL. I know we shouldn't get carried away as it's only the second round, but if this Michael J O'Donovan speedster can clock 16.80 to the third bend every week, then he will be very hard to beat. The betting indicates so too as he is our new favourite at 6/1 from 12/1 in the betting. No surprise there. Well done to team O'Donovan.
***FUN FACT***
Newinn Taylor is the only dog to go faster to the third bend as he clocked 16.79 in the third round of the 2020 derby.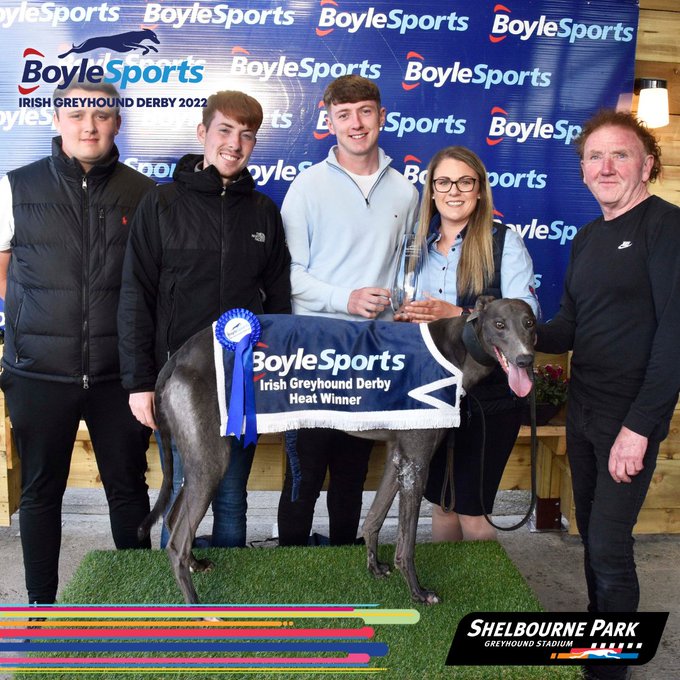 Callaway Pro Am Strikes Again For McKenna
I really like this dog. He is only a September 2020 by Skywalker Farloe out of Bottle Of Banter. He clocked 29.64 in the opening round and then 29.33 in the second round. He has ten races on his card, so I think we are going to see some special things from him with his outright chances now cut into 20/1 from 33/1, but he was as big as 66/1 prior to the derby kicking off. Sad to see Singalong Sally fail to qualify, but we will see her again soon no doubt.
Mustang Jet A Handsome Boy
What a looker Mustang Jet is. His owner and breeder Sean Bourke was thrilled with his performance and calls his star by the pet name Lar. 29.72 was the clock, but we know he is faster as he won in 29.43 the week before. He is a gorgeous brindle dog weighing 75lbs and Dolores was telling me that he loves his treats, especially sausages. He has drifted in the betting however and he is now 20/1 from 16/1. Crafty Kokoro flew home as expected, but it was unfortune to see Kilgraney Sydney not qualify.
Bockos Crystal A Fine Bitch
It's not often you see a bitch like Bockos Crystal, a.k.a. Eimear. Wow. She is a stunner. 70lbs she is, a tank. She won in 29.65 beating Priceless Jet and Iso Fantastic. It was eye-catching with her outright odds trimmed into 25/1 for 40/1 for trainer Graham Holland. Priceless Jet is 40/1 to win the derby. A true professional and a competition dog, so never dismiss him.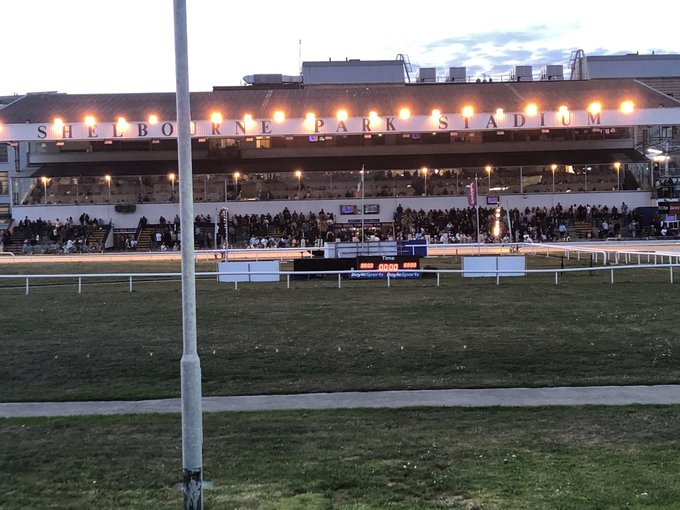 Gortkelly Nestor Ran The Race Of His Life
Andy Murray was just over the moon with Nestor and why wouldn't he be? He faced a classy one in Ballinabola Ed and while there was no catching him, Nestor certainly gave it all to finish second in 29.27. That was his 52nd career start and he is now into the third round of the derby. We are all cheering for you.
Athlacca Zette Doing Athlacca Zette Things
I just love this dog. Well done to Noel Neenan from County Limerick and to his wife Angie and son Gavin who I had the pleasure of meeting. We always focus on the big favourites and the big trainers and owners who dominate, but how nice is it to see a small trainer do well? We love to see it. Well done Zetty, you ran a blinder to finish third behind Rachel Wheeler's impressive Annagh Bailey and Oakfront Cadet in second. The time was 29.64 with Annagh Bailey now 50/1 from 100/1 in the betting.
Quick mention to Explosive Boy and All About Ted too. Both finalists last year and both unbeaten so far in this year's derby.
The Future Of Greyhound Racing Is In Safe Paws!
I always like to give a special mention or shout out to someone each week, but this week I have several people I'd like to pay homage to. Greyhound racing thrives off the younger generation and as mentioned previously it also thrives off social media. There are many wonderful people who are putting in a huge effort to make sure it's being highlighted from tipsters to breeders, from trainers to sponsors, from the Sporting Press to the traders. A shoutout this week goes to the likes of Barry Drake, Emma Buckley, Sarah Buckley, Mikey Cronin, Sarah Hennessy, Damien Lonergan (I always mention him!) Aoife Dunphy, Riverside Kennels and Kevin Hennessy. The future of greyhound racing is in safe hands, or should I say paws?! A special mention to Radio Kerry too for having me on every week to talk about the BoyleSports Irish Greyhound Derby with a special focus on Kingdom connections. All coverage is appreciated.
P.s. Yes I made butterfly buns myself on Friday and no my mammy did not bake them, and yes Imelda had one and said my buns were lovely. I'll bake more for this weekend, but due to popular demand, I might just have to start charging for them!!!
See you all Saturday night for the third round. It's going to be special.
Sarah x
BET HERE FOR SATURDAY – 3RD ROUND – HEATS 1-8
FREE LIVE STREAMING ON A NUMBER OF SPORTS – JUST LOG IN!
Remember, always gamble responsibly. Here's our Safer Gambling Guide.
---
---
---